Just because we want something doesn't mean it will show up in our life. The key to handling this effectively is to acknowledge and accept your disappointment, and to find appreciation for other things that are present in your life. A 12-year-old contestant on America's Got Talent taught me a powerful lesson about this recently. While singing her heart out, she was interrupted when Simon Cowell stopped the music. He told her the background track was awful and would she please sing her song a cappella. She looked like a deer in the headlights and after a moment simply said, "Well, that just happened!" She regained her composure and sang beautifully.
There is a fundamental dynamic that occurs when we encounter disappointment. As depicted below, Point A is where you are and Point B is your unfulfilled dream.

In the process of trying to make sense of our lives, we spend a lot of time connecting the dots between where we are and where we want to be or to go. When the distance between the two is too far apart, we tend to connect the dots by experiencing a lot of negative emotions because we are caught in the dissonance between where we are and where we want to be.
Alternatively, like the girl mentioned above, we can acknowledge where we are, gather our composure and capabilities, and do our best in the moment. This way we don't postpone and limit our happiness by limiting it to a particular dream coming true.
No matter how much you want your dream, holding onto it too tightly diminishes your ability to do your best with what is so for you in the present moment. Here's a typical example. Cynthia is in her early thirties and has always wanted to get married and have children. She is aware of her biological clock ticking away and is distressed that she hasn't yet found a partner. She believes she has done everything "right" to make her dream come true, yet she remains alone and sees her chance to fulfill this dream slipping away.
Holding on too tightly to her dream has prevented her from appreciating the life she has. Some part of her believes she can only be really happy if her dream comes true. The flaw in her approach is that she is preventing herself from finding happiness in her actual life.
When you hold reality up to the standard of an unfulfilled dream, it will always fall short and be a disappointment.
A perpetual state of disappointment can easily lead to depression and despair. I've had clients who were so devastated by their unfulfilled dreams that they numbed themselves from feeling their despair. They distracted themselves with unrealistic To-Do Lists and saying "Yes" to whatever anyone else wanted them to do, just to avoid feeling their accumulated misery.
It is critically important to be honest with yourself about how you feel. Doing so will bring you home to the present moment. I often suggest that clients throw themselves a pity party for 10 minutes or so and really wallow in their misery – give voice to it and cry a river if you need to, so you can release the pent up and unexpressed disappointment. Then, get on with being where you are in your life and making delicious lemonade out whatever lemons you think life has dealt you.
Another typical dashed dream is that our lives should be easier than they are. We often make an assumption that getting from here to there will be uneventful and easy. Chances are it won't be. Life is full of twists and turns.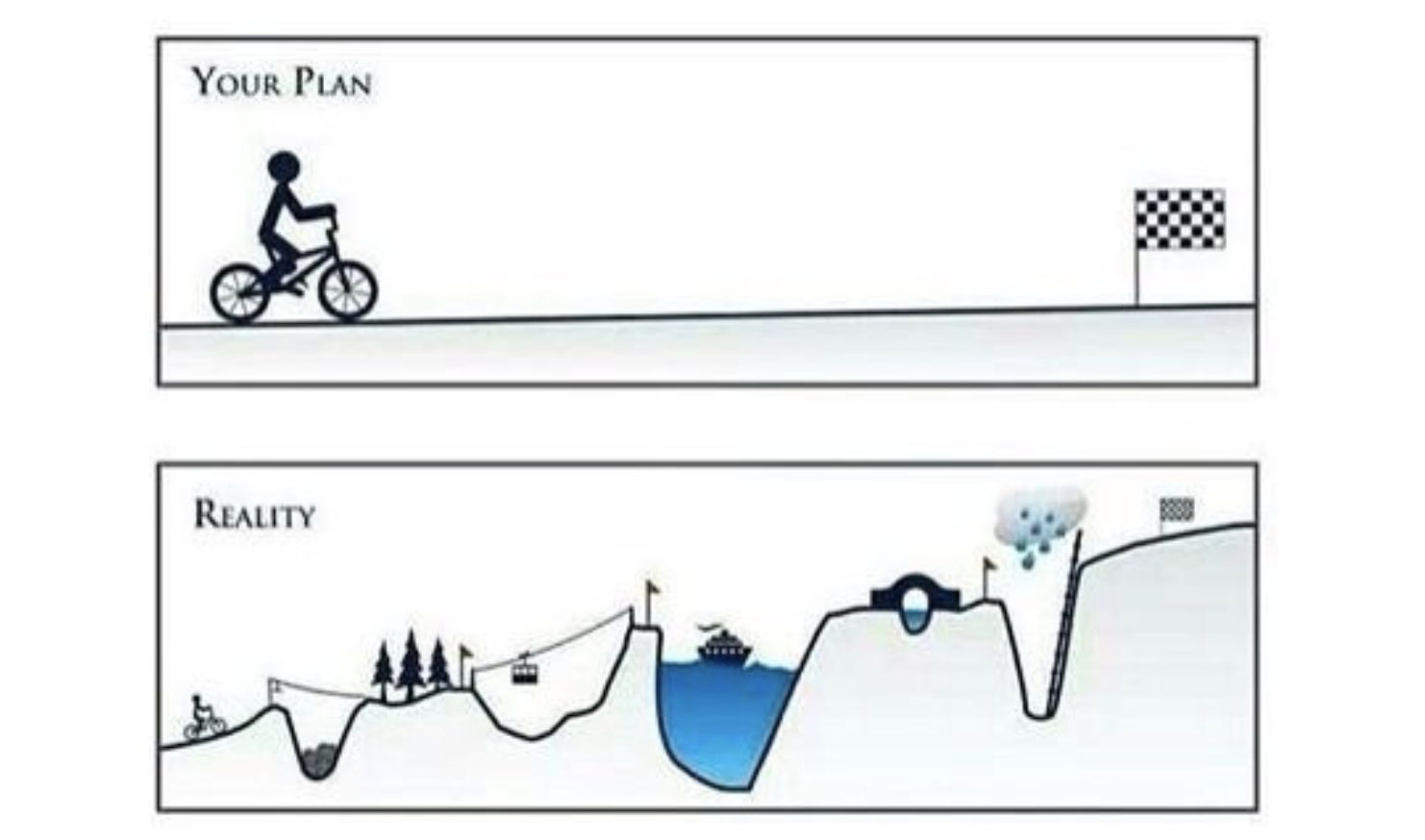 Assumptions and expectations often blind us from what is actually going on in our lives.

Take your life as it comes. Do your best. Let it be a great adventure. And keep your focus on the present so you can respond to the reality of your life rather than trying to force your dreams to come true.
My spiritual teacher, John-Roger, taught me to express my hopes and dreams in a prayerful way that asks, "May this or something greater that is for my highest good come forward." Then, let it go, and put one foot in front of the other, staying present in my life.
For further insight into mastering the art of being you, read more here. If you're feeling social, I also provide daily wisdom and tidbits on my Instagram account. Give me a follow so we can thrive together!